Decks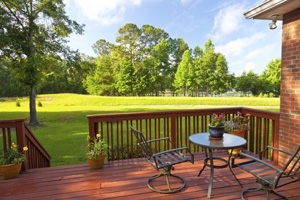 When installing a custom deck on your home, you have a host of choices to make. What material should you construct with? What types of features do you want to include? Should your deck be enclosed or open to the elements?
We can help you navigate these choices and develop the ideal custom deck for your home. Domenico Parravano and Sons has been installing custom decks for homeowners in Baltimore City, Towson and Baltimore County since 1977.
Today, most decks are constructed using one of two main materials: treated natural wood or composite.
Natural Wood Deck Installation
Pressure treated pine wood decks are the most economical choice for material. More premium hardwood may also be installed for extended longevity and a unique look. We hand select premium grade wood decking and visually inspect each piece that goes into your deck.
All wood is thoroughly dried prior to installation to prevent spacing between deck boards as the material ages. We use quality hardware for our installation, to ensure bolts, nails and screws will not back out as the wood dries and contracts. Splinters, knots and smudges are reduced by hand sanding.
Composite Deck Installation
Recent innovations have created new composite deck materials that require a minimal amount of maintenance. Composite deck materials are also available in a variety of colors and shades.
Deck Features
Consider including some of these features in your deck design:
Electrical and entertainment wiring
Stairways
Hand rails
Benches and built-in seating
Lighting
Permanent or retractable roofing
Screens or glass enclosures
Sliding or swinging doors and gates